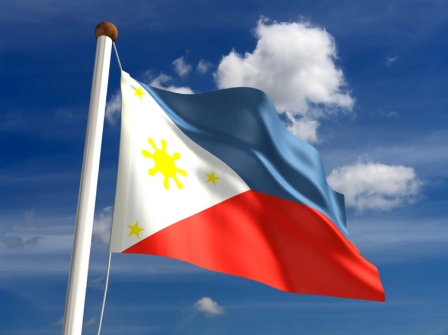 "The Philippine flag symbolizes our unity as a nation and the colorful history of how our forefathers fought and died for the independence we are enjoying today. Displaying it is one of many things we can do to honor the flag but we must also practice being a good citizen and observings the law such as simple traffic rules,"
-Jesse Robredo, Department of Interior and Local Government secretary
The Philippine National Flag made its first public appearance at General Aguinaldo's proclamation of independence from Spain. It was waved in the balcony of Gen. Aguinaldo 6 weeks after the Battle of Manila Bay. The National Flag adopted the features of all 3 previous Katipunan flags. The exact specifications of the flag were laid down in 1936 although the blue used in the flag has long been an issue of debate amongst historians. The blue was changed to royal blue in 1998 as a compromise to the dispute regarding the use of a Cuban blue, American blue and sky blue used in previous flags.
The flag is often displayed with the blue field on top to signify peace and independence, but when the red field is displayed on top it signifies war. Reversal of the flag to have the red over the blue field happened in three events: The 1896 Revolution, World War II, and 1986 Edsa Revolution.
From May 28 to June 12, Filipinos are encouraged to display the Philippine flag at home, schools, government offices and other buildings in celebration of National Flag Day and also the 113th Anniversary of the proclamation of Philippine independence on June 12.
Jesse Robredo, Department of Interior and Local Government secretary, has issued a directive to all local government units to conduct activities such as the simultaneous ringing of church bells, fog horns and holding flag-raising ceremonies. Flag raising activities is in accordance to Section 26 of the Republic Act No. 8491 or the The Flag and Heraldic Code of the Philippines, which orders all offices and public venues to display replicas of the flag.
The flag can also be displayed hanging in a vertical position with the sun and stars on top and such that the blue field points to the east if the road is heading south or north, or pointing to north if the road is heading east or west in case the flag is not hoisted on a pole, as prescribed by law.
Under RA 8491, the flag must be permanently hoisted all year-round in front of the following government offices: Malacañang Palace, Congress of the Philippines building, Supreme Court, the Rizal Monument in Manila, Aguinaldo Shrine in Cavite, Barasoain Shrine in Malolos, Bulacan, the Tomb of the Unknown Soldier at the Libingan ng mga Bayani, Musoleo de los Beteranos dela Revolucion, all international ports of entry and all other places designated by the National Historical Institute.
After the National Flag Day and Philippine Independence Day, the flag must also be displayed during the following events:
The National Heroes Day on August
Bonifacio Day on November 30