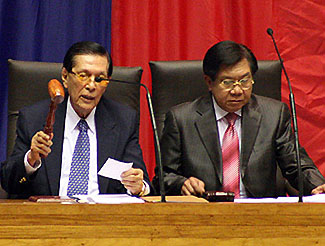 A senior Malacañang official urged lawmakers on Thursday to do away with "boring" questions on Proclamation 1959 and proceed instead to vote on the imposition of martial law in most parts of Maguindanao province.
"Dapat pagbotohan na 'yan. Ang tinatanong pare-pareho naman, eh. Nakatulog na ako kagabi (They should go directly to the voting. Their questions are all the same. I was so bored I fell asleep)," chief presidential legal counsel Raul Gonzalez said in an interview on dzXL radio.
Besides, Gonzalez said, the majority of those in the joint session will vote in favor of martial rule in Maguindanao, with opposition coming mainly from the Senate.
The House of Representatives is dominated by political allies of President Gloria Macapagal-Arroyo.
With this reality, civil society groups are not placing much hope in the joint session, saying they would rather put their faith in the Supreme Court.